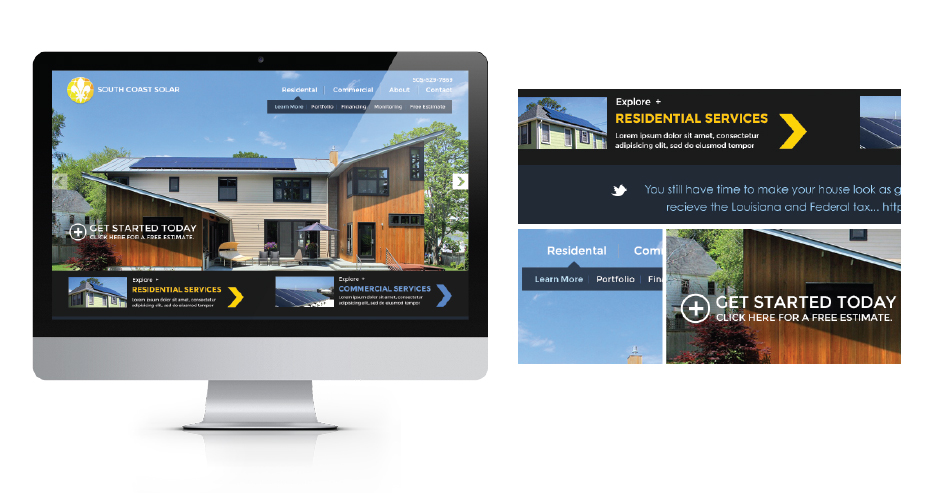 South Coast Solar Website Design and Development New Orleans
South Coast Solar
South Coast Solar Website Design and Development New Orleans
Description
South Coast Solar is a leader in the solar industry for the Gulf South and is continually on the vanguard of renewable technologies having installed over 400 solar energy systems in Louisiana, Mississippi, Alabama, Texas and as far away as Sierra Leone, West Africa. Skuba Design was engaged to redesign and redevelop their new website as well as carry out branding and marketing efforts in app UI design and marketing materials including car wraps for their smart car fleet.
Objective
As a cutting edge tech driven company South Coast Solar is unique in that they continually work to interact with their customer base and wanted an easy way update content and integrate their already strong social media presence. An engaging interactive map in the portfolio section displays selected installs in a way that allows users to find systems similar to their own needs. South Coast Solar's website design and development also integrates the two business models melding into one site to represent both commercial and personal installations. It was also important that the site be responsive to tablet size, and be able to serve a mobile paired down experience necessary for a seamless mobile experience.
Result
The outcome of the website design is an incredibly usable and easy to update site that showcases both residential and commercial development projects in different ways. Monitoring links allow users to quickly check their production stats and an interactive free estimate from allows users to locate their house with a Google Map satellite view and send exact information through the install form.
Testimonial
"Thanks, I love you guys. I have never dealt with anyone that gets so close to what I am thinking. This is great." - Scott Oman, Co-founder and COO