Services
We are masters of complete brand solutions
Process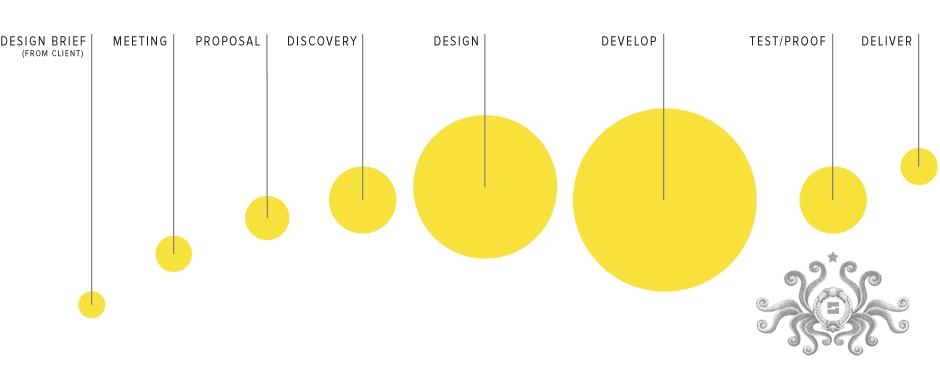 +

Key Services
STRATEGIC

Brand Strategy
Web Strategy
Social Media
Strategic Marketing
Direct Marketing
Market Research
Content Development

INTERACTIVE

Web Development
Mobile Development
Content Management
Mobile Apps
Interactive Design
Motion Graphics / Video
Software Development
SEO Optimization

DESIGN

Print
Brochures
Packaging
Collateral
Invitations
Posters
Infographics
Signage
Tradeshows

BRANDING

Research
Company Naming
Branding Development
Identity / Logo
Style Guide
+

Disciplines
Strategic Consulting

We are not just designers & developers we are experienced strategic thinkers. A lot of thought goes into creating a successful brand, web venture, campaign or product launch. It takes a combination of psychology & sociology, assessing the target demographic, planning, researching, strategizing. All of this must happen before our talented designers go to work designing & developing.

Interactive Disciplines

As masters in everything interactive we use the most modern development languages & techniques. We plan for the best user experience with specific goals in mind. What we do not do is use templates. We develop each and every project from the ground up.

DESIGN

We have extremely talented designers that execute our strategic objectives to show stopping, award winning, client mesmerizing, super successful and profitable design solutions.

BRANDING

With over 20+ years we have developed successful brands that stand the test of time. Before you decide on a name, come up with ideas for logos or purchase a URL please contact us for a strategy session. There's a lot of consideration that goes into developing a brand let the experts help, your success can depend on it.

If you are looking to rebrand we'd love to help whether it's a small brand refresh or a major overall.