About
What we do
+
We are strategic thinkers. We evaluate your business or project, research your competitors, establish ways to reach new demographics or engage with existing. We help launch new businesses or brands. We listen carefully to your ideas and goals and expound on them. We come up with even more unique ideas so you don't have to. We are more than just experienced marketers, designers and developers. When you work with us you get a passionate team working to make your business or project a success. Ultimately, we are your partner.
Digital

Web
Mobile Apps

Print

Layout
Graphic Design

Video

Motion Graphics
Interactive

Marketing

Research
Strategy
What we don't do
+
We don't use templates or old web practices. We don't pass your project off to someone overseas. We don't use designers or developers that don't have degrees, experience and award winning talent.
Who We are
+
Located in the historic Lower Garden District of New Orleans, SKUBA was founded by Trace Hayes in 2000 after spending 11 years working in advertising and design. SKUBA brings together a network of both local and regional talent in graphic design, marketing, multimedia, web development, photography and illustration putting together a talented team of experienced creatives for your project.
Get to know us
+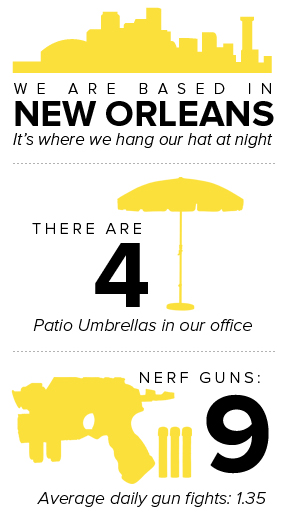 Skuba Squad
Trace

Hayes

CD/Principal

Our Founder and Creative Director launched SKUBA Design Studio in 2000 after 11 years of experience creating Strategic "SMART" Design for brands such as Boots, Rite Aid, Albertsons & Duane Read. She worked on Advertising Campaigns for pharmaceutical giant Merck & packaging and product design sold in Target, Moma, Borders, Tower Records and other retail stores across the globe. At Skuba Trace has worked on hundreds of projects for clients large & small... from Motorola, Verizon, Bank of New York Mellon, PwC, Comcast, Hearst, Time Warner to local start-ups.
Fun Fact: She first came to New Orleans to rebrand K&B drugstore chain. Yes, rebranding the K&B purple! Rite Aid purchased K&B prior to the new brand launch, but New Orleans was in her blood and she made it back to call it home.

Joe

McKesson

Executive Sales Manager

Joe McKesson AKA Opera Joe is a veteran technologist who has worked primarily for fortune 100 companies in the entertainment industry for the past 15 years, Apple Computer, MTV Networks, and Warner Records to name a few. He has a keen eye for design, marketing, and ROI via the internet for clients big and small. He has been a consultant to individual artists, labels, radio, television and arts companies around the globe and enjoys helping people modernize and improve their digital footprint. He strives for great design, social media integration, and ease of use on all platforms. Joe is conversant in Spanish, Italian, German, and French and works internationally as well as domestically. He will work hard to get you the product you need and require to make your business grow into the success you dreamed of.

Rodwell

Stephens

Developer / Designer

Originally from San Andrés Island, Colombia; Rodwell has called New Orleans home for 20 + years. Rodwell is an experienced web developer and designer with a BFA from Louisiana State University and an Associates in web design and interactive media from the Art Institute of Atlanta. He is a detail-oriented designer ever careful to make sure everything is just right. Rodwell strives for modern clean esthetics. His motto... keep it clean, keep it simple.
Fun Fact: Outside of eating or dreaming of eating he spends his leisure time listening to music, watching Arsenal football matches and searching for something else to watch now that Game of Thrones is over.

Jeff

Mills

Lead Developer

Jeff has been a professional web developer for 17+ years. Before making the move in April 2013 to his favorite city (New Orleans), he used his talents and attention to detail to develop large-scale applications and tools for higher education. Jeff is an exceptionally skilled developer on both front-end & back-end. He is fluent in all things server-side focusing mostly on PHP/MySQL development. Jeff is constantly searching for smarter, more effective development techniques, and is in the process of obtaining his degree in the web design/development field. Jeff was honored to win a Webby for his development work at Skuba for "Follow Your Nola" a New Orleans Tourism & Marketing web application.
Fun Fact: Jeff is a fan of almost all things caffeine, cycling through the city on nice days, open-world RPG's, and dividing by zero.

Jay

Casteel

Web Developer

A quiet force behind SKUBA's superior development team. Jay has a youthful jolly spirit that, if you didn't know any better you may mistake him for a regular guy. Don't be fooled! He has what developer superstars are made of (the kind you see in the movie the Social Network - note these developers are one in a million). Jay attended college in the Netherlands for business and transferred to the Art Institute of Atlanta for a design degree. He worked as a designer and developer for a number of years before getting his BS in Web Design and Development from Full Sail University (the best program in the U.S.).
Fun Fact: While Jay is originally a southerner he spent his teenage years growing up in the Netherlands. In his spare time he's an internet surf'n, sometimes game'n, hacky sack'n & disc golf'n... barely skate'n foo. When recently measuring the heights of the guys in the office, Jay was stunned to find out he was 3" shorter than he told everyone... think big, feel tall.

Dan

Leininger

Interactive Director

The lead for all interactive... animation, motion effects, kiosks, Flash and more. Dan is a master in research, analysis, design and development for interactive projects, helping clients to discover and define unique goals for user interaction, and translating ideas into functional web-based applications and platforms. He is a lightning fast coder AND not only is he one of the smartest guys you might ever meet he also happens to be one of the nicest.
Fun Fact: When he's not developing, playing disc golf or kickball he can be found practicing or playing music with his band.

Paulina

Ganucheau

Coordinator / Illustrator

Although Paulina has lived in many cities around the U.S. she is originally from New Orleans. With a BFA from SCAD she has many talents that we draw upon daily. She can leap from project to project in a single bound. Project manager > to illustrator. Prezi Master > to Designer... all with the agility and grace of Cat Woman (her alter ego).
Fun Facts: Paulina is secretly (or not so secretly) a comic book nerd and is currently developing an interactive comic book series that will be available for the iPad.
Paulina
Coordinator/Illustrator