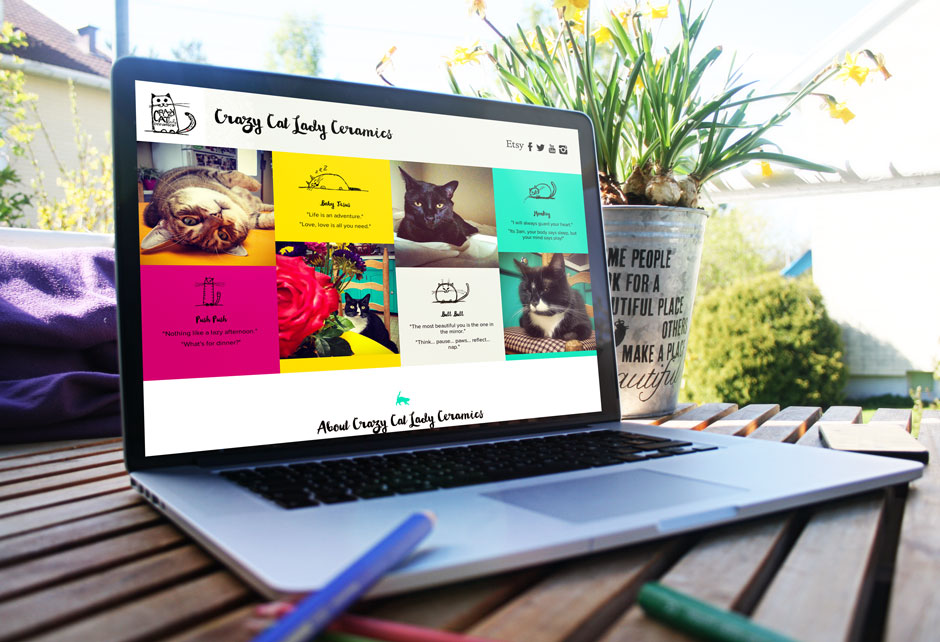 Website Design New Orleans Pet Company Mobile E-Commerce
Crazy Cat Lady Ceramics
Website Design New Orleans Pet Company Mobile E-Commerce
Description
Crazy Cat Lady Ceramics create beautiful custom art and design pieces that speak to the strong love of their furry friends. Each of their feline companions has a story to be told and it all unfolds both on their website and social media sites. These stories and a series of Youtube videos featuring the cats creating mischeif have led to a strong following online and at large events like CatCon in Los Angeles.
Objective
Skuba was contacted to rebuild and rebrand the previous website with a brighter and more modern look that reflected the shifting direction of the company. With the rising popularity of their furry family and transition into more elaborate fine art pieces, Skuba knew it was important to use fun imagery that would bring the creative side of the company to light. It was also important to drive traffic to social media accounts where customers can follow to keep up with the latest items being created.
Result
The new website is truly a reflection of the creative artists making these incredible custom ceramics. The individual disposition of each feline character is represented with illustrations that are caricatures of their personalities and fun quotes further bring them to life. The new website is a modern take on bohemian design that is playful and visually exciting. The site uses API technologies to bring in latest Tweets, Youtube videos and other accounts that has helped lead to 55,000 unique followers across social media platforms.