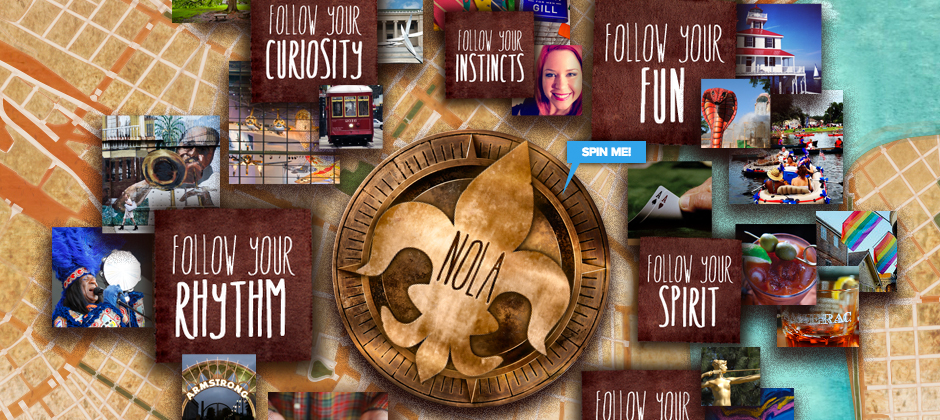 Follow Your Nola Website Design and Development
New Orleans Tourism Marketing Corporation
Follow Your Nola Website Design and Development
Description
As proud residents of New Orleans, Skuba was honored to be engaged by New Orleans Tourism Marketing Corporation (NOTMC) and fellow agency Dentsu America, to develop a customized interactive website. The Follow Your Nola website is the digital media centerpiece for the launch of Follow Your Nola and beyond. The website was deployed in multiple phases. Phase I of the website featured an interactive map, hand picked locations & dynamic content launched May 6th, 2013 to help kick off the national campaign. Phase II of the website extended the user interaction to include a personalized experience allowing visitors to create accounts and save their favorite locations. Phase III introduced a mobile version of the website. Phase IV included a completely new design and development of the website which, in 2017 won a Webby award for the travel website category.
Objective
Working closely with NOTMC and Dentsu to ensure all needs were met, Skuba Design was tasked with the development of a unique website, specific to New Orleans and the Follow Your Nola campaign breaks away from traditional user interface design featuring an enhanced user experience. The Follow Your Nola website goals for phase I were to not only engage potential travelers but also represent the true essence of New Orleans showcasing spotlighting places to visit beyond the French Quarter.
Result
The website design features a custom Google Map that integrates hand painted map tiles. The map tiles are then made into a pattern and incorporated into the Google Map. The resulting effect of painted streets and waterways is as unique as New Orleans itself. At the center of the design is the fleur-de-lis compass used throughout the Follow Your Nola campaign. The interactive compass allows the user to "Follow Your Nola" establishing new paths for visitors to explore the city and beyond. A national advertising campaign in both television and online advertising drove large amounts of traffic to the site and as a result has created new buzz, interest, and a much needed expanded view of the possibilities and experiences New Orleans has to offer.
Testimonial
"Your work is outstanding." Mark Romig President & CEO New Orleans Tourism and Marketing Corp.