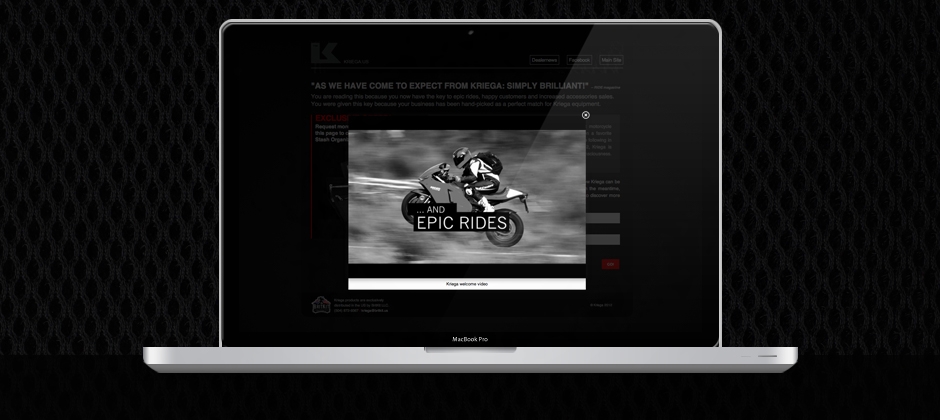 Micro Website and Motion Graphics Piece for Kriega Motorcycles in New Orleans
Kriega
Micro Website and Motion Graphics Piece for Kriega Motorcycles in New Orleans
Description
Kriega is a well-respected line of high-end motorcycle bags and accessories produced in the UK. Their target market are Ducati & BMW riders, both off-road & the racing-obsessed choose Kriega as their gear of choice. We were chosen to create the marketing initiative announcing the product to availability in the United States including creating the introductory package to launch Kriega into this new region.
Objective
We were tasked with creating motion graphics, website, hangtag & packaging to launch Kriega to dealers in the United States for the first time. When the key drive from the package is plugged into the computer a dynamic motion graphics video auto launches introducing the select dealers to this unique leather bag.
Result
We built a system that gave us the ability to track how many people plugged the key drive into their computer, as well as user activity and response. The project far exceeded industry standards and after just the early phases of launch those numbers continued to grow exponentially. The clean black & white photography created a mood that instilled energy and elegance to the website and accentuated the value of the product design. What a great product & solid brand, if you are a rider go pick up your Kriega today!